Farmers Market Spring Salad: (3-4 portions)
Preparation and cooking time: 15-20 minutes
Here is another simple recipe.  I invite you to visit a Farmers' Market near you where you will be able to find all these ingredients.
Feel free to change the type of lettuce, greens, or protein depending on what's available.
Kapha dosha friendly as most of the ingredients are light and cleansing, this salad will also keep your Pitta dosha cool on warmer days.
Ingredients:
1 whole green/red leaf or oak leaf lettuce washed and torn, or 3 cups of mixed greens with some arugula in it
1 cup of heirloom multicolor cherry tomatoes cut in halves
3-4 baby cucumbers cubed
1.5 cups of slightly undercooked gai lan or broccolini, cut in 3 cm pieces
2 tablespoons of fresh parsley or cilantro, chopped finely
1/2 cup of fresh strawberries, cut in halves
Optional protein addition:
1 cup of shredded cooked chicken (white meat preferably)
or 1/2 cup of almonds for a vegetarian version
For the dressing:
3 tablespoons apple cider vinegar
2 tablespoon extra-virgin olive oil
3 tablespoons Farm House grated Fermiere (parmesan style cheese)
Salt and pepper to tast
Wisk all ingredients together and set aside.  
When ready to eat, drizzle the dressing on top of salad, toss, and…
Bon appétit!
Spaghetti Squash with Endive, Arugula and Apple Salad (3-4 portions)
Preparation and cooking time: 1 hour and 10 minutes (includes some free time)
This recipe is simple, has few ingredients, it's delicious, vegan, warming, hence Vata friendly.  It can easily be adapted to pacify Kapha dosha during the Spring (switching some of the ingredients to those in parenthesis) to make a lighter and more cleansing version (during the months from March to June).
Ingredients
1 spaghetti squash

extra-virgin olive oil (or sunflower oil)

salt and fresh ground black pepper to taste

1 pound of asparagus, steamed tender

1 leek finely chopped (or 2 garlic cloves, chopped)

2 teaspoons of minced fresh rosemary

1/2 cup ricotta cheese (or local fresh goat cheese)

1 tablespoon of toasted pine nuts (or sunflower seeds)
The first step takes 45-55 minutes while you can be doing something else: prepare the dressing and other ingredients for your salad, then meditate, or do some yoga …
First, bake your spaghetti squash, it's the best and easiest way to cook it.

Preheat your oven to 375 F.

Wash the shell of the squash, rinse well and dry with a towel. 

Cut the squash in half lengthwise, scrape the seeds out of each half, and place the squash, cut-side down, in a baking pan.

Pierce the squash shell several times with a fork and bake for about 45-55 minutes, or until the flesh is tender.

Remove from the oven, and let cool for about 10 minutes.  Then use a fork to pull the strands of squash and reserve. 

Heat 1 tablespoon of olive oil (or sunflower oil) in a large nonstick skillet over medium heat

Slice the asparagus into 1-inch pieces and sauté them with leek (or garlic) and rosemary for one minute

Stir in ricotta (or goat cheese) and squash

Season with salt and pepper and sauté until hot and creamy 

Top with pine nuts (or sunflower seeds)
serve with: Endive, Arugula and Apple Salad
For the dressing:
Whisk together 1/4 cup apple cider vinegar, 

1 teaspoon Dijon mustard, and 

1/2 cup olive (or sunflower) oil.  

Season to taste with salt and pepper (low on salt during Kapha season)

Mix 2-3 heads of Belgian endive, cut crosswise into 1/2-inch pieces, 

1 cup arugula, and 

1 apple, cored and thinly sliced

Stir in the dressing and toss all ingredients together just before serving 

Share and enjoy!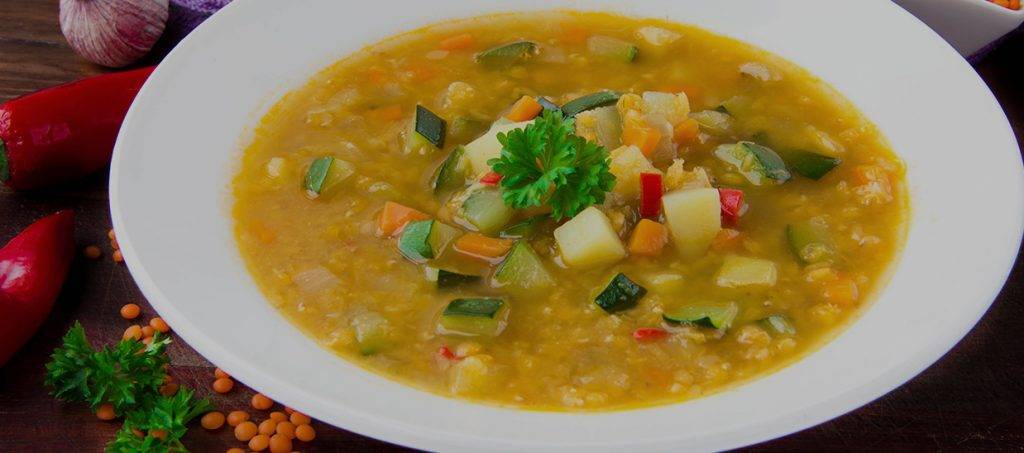 This is one of my favourite soup recipes as it brings Vata dosha all it needs to be in peace. Easy to make, it will calm your body, your mind, and your environment. It has warming and grounding energy.  It is a complete meal in itself, but you can also serve it with some fresh bread. It is very nutritious, delicious, and also vegan.
2 tablespoons of ghee or olive oil
1 sweet onion chopped
1 leek chopped
1 to 2 tablespoons finely chopped fresh ginger root
1 sweet potato or yam chopped in 1cm cubes
3 carrots chopped in 1cm cubes
1 rutabaga chopped in 1cm cubes
5-6 Roma tomatoes blanched and chopped
25-30 green beans chopped or 1 chopped broccoli
1 cup of split mung beans or green lentils, well rinsed
Herbs: 1 teaspoon of each: freshly grounded fennel seeds, cumin seeds and coriander seeds
2 teaspoons of ground turmeric
Salt and pepper to taste
2 liters of fresh filtered water
Fresh cilantro leaves to taste
Sauté the onion and leek in the ghee (or olive oil) until golden, about 4-5 minutes, add the herbs and mix well.  Add the lentils and the tomatoes, stir, and then add the vegetables: root veggies first, mix well, add half the water and bring to boil, cook for 5-10 minutes. Then add the beans or the broccoli florets and the rest of the water. Bring to boil again, then lower to simmer for 45 minutes.  Season to taste with salt and pepper. Add fresh cilantro, serve and enjoy!